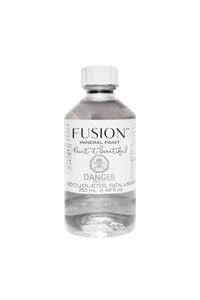 Odorless Solvent Mineral Spirits - Fusion Mineral Paint
Regular price $15.99 Sale
This is definitely a product that everyone should be taking home to their paint kits. It is an incredibly useful multifunctional product and top of the line as far as mineral spirits go. 
SO WHAT IS IT USED FOR?
I'm glad you asked! It will remove any oily/waxy residue or finish from your substrate and is essential step in your prep process when painting on top of almost all chalk painted furniture. It is also an essential part of your prep process when painting kitchen cabinets as there are all kinds of oily residues on cabinets - no matter how clean you think you are! It also makes an for an excellent solvent to use when cleaning any brushes that were used with an oil based product (think waxes, most wood stains etc). This product can also be used to remove sticky residue from price tag stickers and more. It's just a great PREP product to have on hand at all times.
WHAT MAKES FUSION's SPIRITS BETTER?
Odorless Solvent/Odorless Mineral Spirits have been through a refinement process to remove the more aromatic and toxic compounds found within raw White Spirits/Mineral Spirits. These types of toxic' in the raw' solvents are commonly found and sold at your local hardware stores. It is nearly impossible to prevent yourself from inhaling the poisonous fumes that are released into the air as soon as you twist the cap off the container. By contrast, this product goes through a rigorous refinement process that removes 99.9% of the toxic aromatics (VOC's). You might find other brands of "odourless mineral spirits" but they come in a variety of purity grades. With this product you are guaranteed to get a product that is as pure as it gets (smallest possible levels of aromatic and toxic compounds).